Day 2
Universal Studio with Sea Aquarium
After Breakfast proceed to Universal Studio, go beyond the screen  and ride the Moives at Universal Studio. Expereince the cutting edge ride of Transformers make your belive you are right there.Begin your enterprise to Hollywood movie beguilement stop - Universal Studiosâ"¢ shapes some bit of Resorts World Sentosa. Among the entertainment focus' many rides and attractions are Battlestar Galacticaâ"¢, the world's tallest match of dueling insane rides and Far Away Castlethe foremost chteau from the universe of Shrek where you can experience the surprising Shrek 4-Dinterest. One of the best presentations in live incitement relies on upon the film Waterworldâ"¢. The movement comes surging to life in a wave of stunning traps, impacts and energizing action. Acknowledge Jurassic Park Rapids AdventureMadagascar: A Crate Adventure and Revenge of the Mummy, TRANSFORMERS The Ride and some more..
Sea Aquarium: Begin the journey by travelling back in time to discover Asia maritime heritage, home to more than 100,000 marine animals of over 800 species.


Sentosa Island Trip
Explore: One Way Cable Car,Wings of Times-2nd show,Tiger Sky Tower,Sky & Luge Ride
Cable Car
Wings of Time: Sentosa's latest signature night extravaganza, Wings at Time is produced by the awardtwinning events company ECA2. Combining state-ot-thesart effects such as 30 project: n mapping, lasers, robotic water fountains, and pyrotechnics with contemporary story-telling, Wings of Time offers a high-value unique entertainment experience for two shows each day. Wings of Time redefines conventional rules of story-telling with a poetic take to a tale of friendship and courage through spectacular music and effects. 
Wings of Time is the 2014 Themed Entertainment Event Spectacular Award Winner, one of the industry's most coveted awards. With Sentosa's Siloso Beach as the backdrop, over one million guests have been mesmerised by this magical story of lriendship.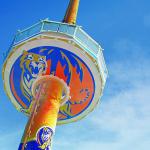 Tiger Sky Tower: Get a great view from 131m above sea level at the revolving Tiger Sky Tower, Asia tallest observatory tower.Take a faboulous 360 degree view sof the surronguding Singapore skyline and neighbouring island from its vantage point.Day or night, there is no better way to take in the breathtaking vistas Sentosa and Singapore have to offer The Tiger Sky Tower is one the 13 observation towers in the world
Sky & Luge Ride : Hop on the luge cart to either race down or leisurely cruise along a choice of 2 sepciaally designed paves trail-Dragon or Jungle Trail.The Skyline Sentosa Luge is a fun Singapore attraction which offers a truly unique outdoor experience suitable for all ages that is not found anywhere else in Singapore.Than take the skyride through a scenic 320 long tree-top ride back to the starting point to do it all over again.
Overnight stay at hotel (B)
Day 4
Singapore City Tour
After Breakfast Investigate the city by driving round the Civic District, go by Padang, the Cricket Club, the notable Parliament House, the Supreme Court and City Hall. Next, stop at the Merlion Park and appreciate the great perspectives of Marina Bay. Try not to pass up a great opportunity for this incredible photograph opportunity with the Merlion, a legendary animal that is part lion and part angle. At that point continue to Singapore Flyer with a stop (entrance discretionary). Visit the Thian Hock Keng Temple, one of Singapore's most seasoned Buddhist-Taoist sanctuaries, before driving past Chinatown. Stop by a nearby handiwork focus and watch specialists at work very close. You can likewise appreciate the all encompassing perspective of Marina Bay Sands and stroll to the Helix Bridge. Our last stop at Little India will beguile you with the aroma of joss sticks, jasmine and flavors